Popcorn for your staying at home on holiday is awesome.  It is delicious and we love the way it turns out.  It was so good but we wold love to try a different version for Fall/Thanksgiving.  We went a different route and made a caramel popcorn this time.  It turned out great!  
HOW TO MAKE HARVEST CARAMEL CORN
You will need:
Popcorn
Salt
1/2 Cup Butter (Sweet Cream Salted)
1 Cup Brown Sugar
2 tsp. Vanilla
1/2 tsp. Baking Soda
Harvest Blend M&M Candy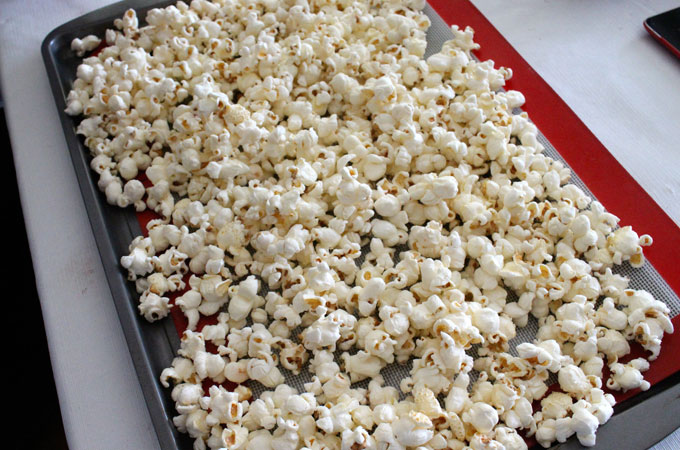 The first step is to make some popcorn.  You can use microwave popcorn but we recommend you make the popcorn on the stove.  It is very easy. First, pour 2 Tbsp. of oil in the bottom of a medium/large pan. The oil should generously cover the bottom of the pan.  Heat pan over Medium/High heat. Put 3 test popcorn kernels in the pan.   After test kernels pop, add 1/2 cup of popcorn kernels to the pan.  Take the pan off heat when the sound of kernels popping slows down. It's that easy. Once you have the popcorn made, salt it liberally and make sure that you have pulled out any of the un-cooked kernels.
Melt 1/2 cup of butter in a medium saucepan over medium heat.
Add 1 cup of brown sugar and stir until thoroughly mixed.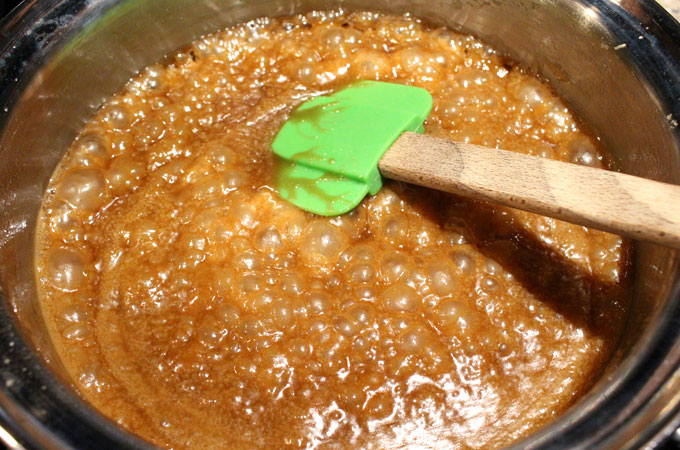 Stirring continuously, bring the butter and sugar mixture up to a boil and cook for 5 minutes. Â Add the 2 tsp. of vanilla at the 4 minute mark.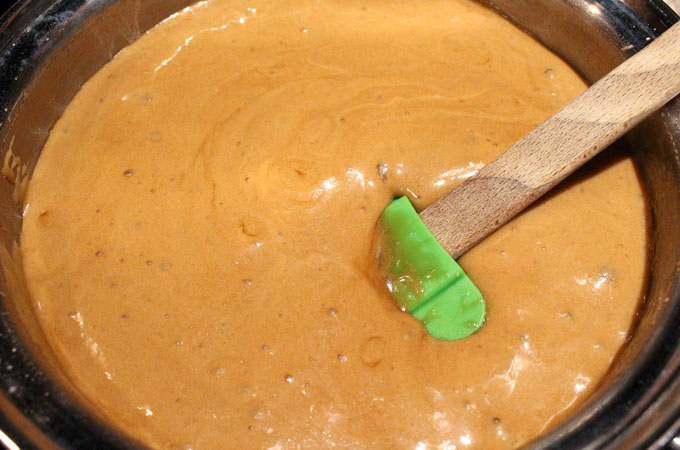 After boiling for 5 minutes, add the 1/2 teaspoon of baking soda. Â This will cause the caramel to change colors and foam up a bit. Â This is the chemical reaction that you want. The bubbling effect of the baking soda will aerate the caramel and make it lighter and smoother and therefore easier to coat the popcorn.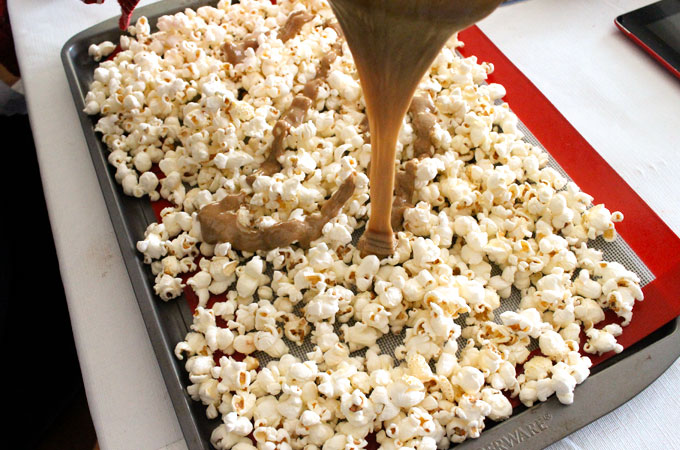 Drizzle 3/4 of the caramel mixture over the popcorn. Save 1/4 of the mixture to the side.
Use a spoon to gently fold the popcorn with the mixture until the kernels are all covered.
Now you need to get your Harvest Blend M&Ms and Mini Rolo's to add to the Harvest Caramel Corn.  To get the candy to stick to the popcorn, drizzle the remaining caramel mixture over the caramel corn and immediately sprinkle the candy on the areas with the drizzled caramel mixture.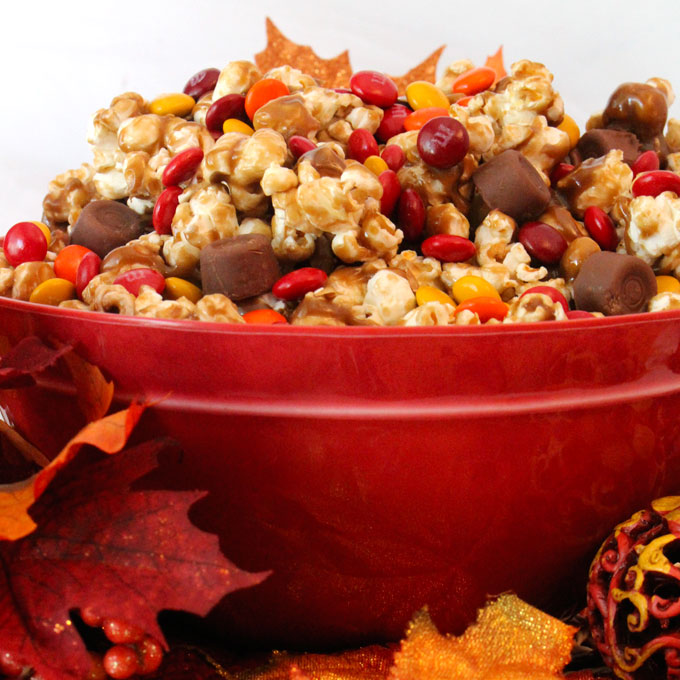 Let the popcorn cool and your super delicious Harvest Caramel Corn is ready to serve!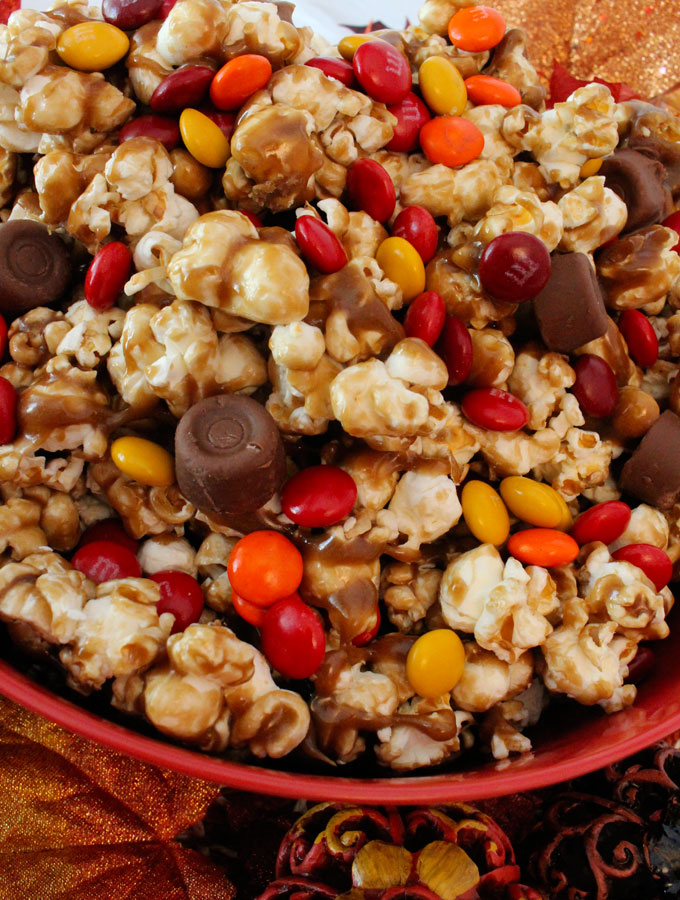 This is the best sweet version of popcorn we have ever  made.  Salty popcorn, sweet creamy caramel and the extra chocolate from the Rolo's and M&M's – so very yummy! And easy to make too.  This is a great Fall snack and would look gorgeous on your Thanksgiving Dessert Table.  Two Sisters Crafting Thumbs way up on this one!